System Documents
Helpful Resources
Workforce Management Administrators Support Page
Our Knowledge Base now provides comprehensive guidance on various aspects of our system. This includes instructions on accessing your account and registering, navigating our supplier portals, managing roles and worker subscriptions, setting up and using the Workforce by Avetta Mobile App and other support materials.
The Business Rules specify the requirements of the documents you upload in the system. Ensuring your documents meet these requirements will save time and have your business and workers approved faster.
Adding and Removing a Cardholder (print and scan)

Complete and return this form if you have a new worker who is already registered to a different company in the system, and you need them added to your company. Workers can be removed from your company by an administrator directly in the system. Instructions on how to complete this process are available under the End Employment sub-heading of this page: https://kb.pegasus.net.au/display/WFMS/Supplier+Portals
Safety Management System Review Links
Quick Submit Verification Supplier Portal Overview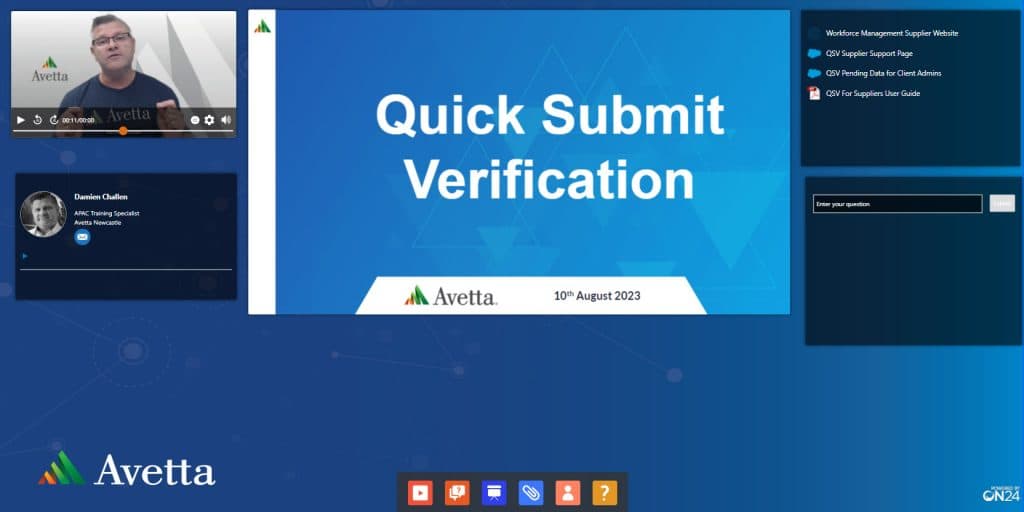 Frequently Asked Questions
Where do I register in the system?
Select the REGISTER BUSINESS button at the top of the page to find the Lion Contractor Safety System where you will register your business.
Once you have registered both your business and workers (you will be emailed login details to register workers on business registration approval), you can create an account in Pegasus Gateway (button at the top of the page).
From Pegasus Gateway, you can access both the business and worker portals of the Lion Contractor Safety System from one place with one login.
Who needs to complete the safety registration and verification?
Lion aims to keep everyone safe every day, and the purpose of this process is to ensure all people working on a Lion site meet minimum safety expectations. Therefore, it is expected that every contractor working on a Lion site, venue, or location will complete this process.
Labour hire provided by Programmed are not required to register.
Lion Australia contractors will be asked to register in a future phase of the system implementation.
How much does registration in the system cost?
Business registration costs $138 + GST annually.
Contractors deemed in a high-risk category will then pay $805 + GST for a safety management system review of their polices and documents by a safety specialist, completed every 24 months.
Worker registration costs $57.50 + GST per person annually for the management of roles, verification of documents, and supply of card. Replacement cards are $34.50 + GST. A tax invoice will be supplied on payment.
What is the cost for?
The registration cost is the fee for registering a business based on the risk category of the work that your organisation completes for Lion. The fee covers the audit process required to verify your submission against the Lion's safe work criteria.
The worker fee is for the verification and maintenance of worker competencies and safety inductions.
Who pays for the registration?
The cost of registering a business and verification of workers in the system should be viewed as an operational cost for your business, and forms part of the overall commercial contract when working with Lion.
What documents do I need to upload to register?
The documents you upload will depend on the work your business does for Lion.
Business:
Insurances such as Workers Compensation and Public Liability
Company Trade Licences
Safety Management System (SMS) documentation or AS4801 compliance information
Workers:
Passport-sized photograph
Generic induction cards
High risk licences
Trade or tertiary qualifications
Certificates or statements of attainment
What benefit does the system have for contractors?
Registration ensures you are aligning to Lion's Safety Essentials, helping our people make safe decisions, and keeping everyone safe everyday. The system is your opportunity to prove you have the systems, qualifications and competencies to work safely for Lion.
Join an exclusive list of pre-approved Lion contractors
Build a stronger partnership with Lion
Enjoy high-quality work opportunities as you can prove you are fit to work
Use the simple, intuitive online interface to manage your profile any time
Lion safety expectations consistently set
Have all inductions and training completed prior to coming to work
Who do I contact if I have questions about the system?
You can contact Avetta, who manages the system on behalf of Lion. Visit Contact Us for details.
What is the High-Risk Category company?
When completing the business registration process, a High-Risk Category company will answer '"yes" to the Category A question on the Work Categories page.
A High-Risk Category company:
Major Capital Project contract
Facilities Management contract
Major Earthworks, Demolition or Excavation
Any works that require the use of plant or equipment for lifting
Managing / Principal contractor who manages subcontractors and delivers a broad project scope of work
How long are worker's inductions valid for?
Inductions, which are booked online during worker registration, are valid for 12 months. You will be emailed a reminder to re-book worker inductions before they expire.
What do I do if I engage subcontractors on a Lion site?
Lion has a duty of care to ensure all contractors are compliant with work health and safety requirements. If you engage subcontractors to perform work on a Lion site, then those subcontractors should also register to identify their company and employees. Please ensure that any subcontractors you engage follow the process to register  prior to attending a Lion site.