By everyone owning safety we can create a business that achieves long term results.
Keeping everyone safe everyday is a key focus at Lion. No matter where our people are based, everyone who works with us should know our basic expectations when it comes to safety. Because it's our people that makes us great.
Our Safety Essentials define what's non-negotiable when it comes to safety. They are aligned to our high risk areas and focus on areas where our people have been injured. They help our people make safe decisions, and help to keep everyone safe everyday.
Learn more about the essentials of keeping safe >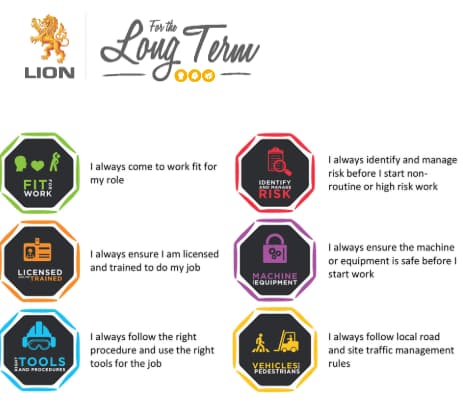 To underscore and strengthen our safety and wellbeing commitments, contractors working for Lion must register and maintain their compliance in an online Contractor Safety Management System.
The system is managed on our behalf by Avetta.
HOW DOES THE SYSTEM WORK?
Contractors will register both their business and workers in the Lion Contractor Safety System.
The process is logical and simple and is all completed in an online portal. We divide the process into two stages to make it as seamless as possible: 1. business registration, and 2. worker registration. Here are the basic steps:
Create a profile

Register your business

Upload business insurances and documents for verification

Register your workers

Upload worker competencies and licences for verification

Workers complete required training
Everything you enter and upload is verified by safety specialists. The Contractor Safety System guides you to reach and maintain compliance to work for Lion.
WHO NEEDS TO REGISTER?



Lion NZ Sites
Wither Hills
Emerson's
Fermentist
Harrington's
Havana
Lion Liquor Retail
Little Creatures
Panhead
Speight's
The Pride
Lion Australia Sites
Tooheys
Castlemaine Brewery and Hospitality Venue
Little Creatures Geelong and Hospitality Venue
Little Creatures Fremantle and Hospitality Venue
Boags
Malt Shovel
Lion aims to keep everyone safe every day, and the purpose of this process is to ensure all people working on a Lion site meet minimum safety expectations. Therefore, it is expected that every contractor working on a Lion site, venue, or location will complete this process.
Labour hire provided by Programmed are
not
required to register.
SYSTEM BENEFITS
Become part of Lion's

list of contractors

for the future
Build a stronger partnership with Lion
Enjoy high-quality work opportunities as you can prove you are fit to work
Use the simple, intuitive online interface to manage your profile any time
Lion safety expectations consistently set
Have all inductions and training completed prior to coming to work
Avetta

Avetta manage the Contractor Safety System on behalf of Lion.
Learn more about Avetta.